home >>
learning English

>> return (previous page)
Play and Learn
one of Rosalie's hobbies is painting ...
Live and Learn
In 2002, I began to take painting classes, I also started in various activities : sewing, repairing chairs, framing photos and photography, as well as travelling. I recently started learning English too, so that when I have the opportunity to see my family in the United States or in Canada I can speak a bit easier.
After every trip, I reproduce images on canvas. This has become my main hobby. I have been invited to many exhibitions, including in Normandy and in England ...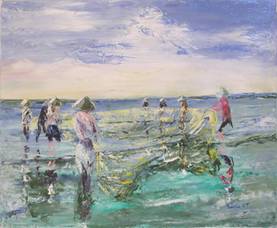 My father, after seeing my paintings, regretted not having let me take art classes when I was young, rather than my older sister who did not like painting at all.
I have included two examples of my painting on this page - Waikiki Beach (Hawaii), and Fishermen (Vietnam)
article by Rosalie Houllière © April 2010
---
>> return (previous page) >> return (home)